Premium Bonds & National Savings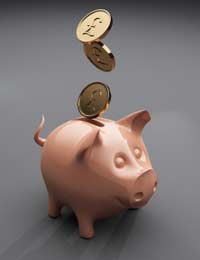 There's a lot of money still languishing unclaimed in the vaults of National Savings and Investments - not only savings, but also unclaimed premium bond prizes (remember premium bonds? They're still around and active).
There was a time when most people used various forms of national savings as the way to salt away money, before everyone had bank accounts. Even now they're a powerful force, just not as big as they once were.
Types of National Savings Accounts
The list of different types of savings accounts handled by National Savings gives an indication as to how widespread it once was. However, be aware that most of these no longer exist. That means, if you find a passbook or certificate in the possessions of an elderly or deceased relative, the funds no longer operate, but the money can still be claimed.
The complete list is: British Savings Bonds, Capital Bonds, Pensioner's Bonds, Children's Bonus Bonds, Investment Accounts, Deposit Bonds, ISA or Direct ISA, FIRST Option Bonds, Income Bonds, Fixed Rate, Save As You Earn, Savings Bonds, Premium Bonds, Ordinary Account, Yearly Plans and Savings Certificates. Also covered are the Post Office savings accounts and various savings certificates.
National Savings makes an account dormant once correspondence to a customer has been returned as undeliverable. This is for security reasons, although it doesn't affect the savings in the account, which continue to accrue interest until claimed.
Some people also possess National Savings stamps, another way of saving. These have no passbook of any kind. They can still be redeemed, as they don't expire, but there's no interest, they're simply paid at face value.
Tracing a Dormant Account
National Savings and Investments does having a tracing service, which is available through its website (www.nsandi.com). However, a trace takes around three months to complete, and the same service is available from My Lost Account (www.mylostaccount.co.uk), which is also free.
For NS&I to run a trace on an account, you'll need to fill out and return their form - it's as simple as that. You will need to know what type of account, and if you're running a trace for someone else, NS&I will need their permission in writing before releasing information (if you're searching on behalf of someone deceased, they'll need a death certificate).
If you're hunting for information on unclaimed government stocks, also known as gilts, these are no longer administered by NS&I. You'll need to contact Computershare Investor Services.
Premium Bonds
Unsurprisingly, NS&I receive more requests about old premium bonds than anything else. People find old ones and want to discover if they've won anything, although in the majority of cases they haven't.
In most instances NS&I lose track of premium bond holders when the person moves and doesn't inform them of the new address - that means they can't be notified of any winnings.
They don't need the same form as other savings in order to be claimed. With the bond itself, or the holder's number or card, you can simply check online to see if the bonds have won on the NS&I site with their premium bond prize checker. Alternatively, just inform them of your new address on the holder's card ands they'll check for winnings.
It's worth noting that if someone deceased has won a prize, the prize is only held for 12 months after the date of death. Now read how to check that you don't have any money left in dormant bank accounts.
You might also like...
Hi there, My grandmother has a book of national savings stamps from the mid 1950's onwards and we are trying to find out if there is any current redemption value?..any help or direction would be grateful! Thank you
Nod79
- 2-Jan-20 @ 12:34 PM
I sent my old post office saving book in a few years ago put it in an envelope provided by the post office. I have never heard about it since. Where has it gone?
Morgs
- 18-Oct-19 @ 12:42 PM
I have a book of old saving stamps worth £3.50 can I claim this back please
Morgs
- 18-Oct-19 @ 12:40 PM
My mother opened me and my 3 sisters a ns&i account in 1997 for when we was 18 she passed away when I was 18 months old and my dad stole mine when I was 4 I'm 25 can I get that money back or did he have the rite to it being my parent although he abandoned me a year befor he took it
Lauz
- 15-Oct-19 @ 6:24 PM
My grandad (now deceased) set up 2 paper savings bonds for me 26 years ago, but the papers were misplaced and I don't have the serial numbers, how do I claim them?
Jade
- 13-Aug-19 @ 1:29 PM
Hi I was told that I was brought at post office bond in 1976 by my gran. How do I go about finding this out please any one
Conny
- 31-Jul-19 @ 6:56 PM
My husband died over two years ago. How can I find out if he had any premium bonds?
Billy
- 4-Jun-19 @ 9:49 AM
I know I had a big win on the premium bonds as a child, c 1960. I also know this money was stolen by my parents (deceased).. The bonds have also been sold, illegally. Are records kept of big winners going back this far and how do I obtain proof ?
Charles.
- 9-Apr-19 @ 10:09 AM
I have three old premium bonds numbers bought in the 1970's. Beginning 5ak,5bk & 5bn, have been told these would have been replaced with up to date numbers but have never been informed of that. How can I trace them?
Jay
- 24-Mar-19 @ 3:43 PM
Hi I am trying to look into premium bonds for my sister and they are old and we're not sure if they are valid
I have a capital bond statement from 1999, can I see how much interest is accrued and claim money back. Thank you.
JAG
- 21-Jan-19 @ 12:58 PM
I HAVE FOUND SOME OLD BONDS DATING BACK TO 1976 AND 1992. HOE DO I CHECK IF I HAVE WON PLEASE.
FAZU
- 10-Dec-18 @ 4:03 PM
i have found some bonds are thay still active.
mikejoe90
- 28-May-18 @ 5:48 PM
Roger - Your Question:
I have found two 2/6p national savings stamps, is it worth trying to get them cashed?car
---
Our Response:
According to NS&I: 'These products are no longer sold. If you have any National Savings Stamps or Gift tokens we can redeem these for you at face value. To do this, send the stamps and tokens to us with details of your name and address. We will send you a warrant for the value. Please address these to: National Savings and Investments, Glasgow - G58 1SB.
UnclaimedFinances
- 22-May-18 @ 9:21 AM
I have found two 2/6p national savings stamps, is it worth trying to get them cashed?car
Roger
- 21-May-18 @ 2:23 PM
Found £18 worth of premium bonds after my dad died are they still worth anything and how so you check for any PRIZE thanks graham
Burnsie
- 8-Apr-18 @ 5:51 PM
Hi I have found a savings certificate for £50 bought in Feb 1986 fixed rate interest how do I find out what the interest is and what do I do about cashing it in ? Thanks
I have found a old premium bond for the sum of 5 pounds serial number is it valid please.
twed
- 13-Dec-17 @ 9:52 AM
Hello, my parents bought my son a Children's Bonus Bond in 1998. Both my parents are now deceased and my son is nearly 20yrs old. Does he now need to contact you himself to update the value of his bond and I no longer take care of it on his behalf? Thank you.
Hovis
- 25-Jul-17 @ 7:16 PM
My dad bought £5 of bonds when I was born -1970, how can I check if I ever won anything My name on bond sharron
Shaz
- 11-Jun-17 @ 10:02 PM
I have a bond of £5 which my dad bought for me when I was born 1970, how do I check if I ever won anything
Shaz
- 11-Jun-17 @ 9:59 PM
Bonds for my children not updated when they reached 18 - how do we proceed. Thank you
lizimc
- 20-Apr-17 @ 1:00 PM
My mother in law died January 2014.She had a premium bond which I have recently come across in her papers.How can I find out how much it is worth and can it be cashed in? Her husband...my father in law died November 2013 and their only son..my partner...died May 2012.Myself and my 26 year old daughter are the only ones left which would make my daughter next of kin.How do I go about the process of finding out the worth of the bond?...Thank you
thornbank08
- 29-Mar-17 @ 7:28 PM
My mother passed away last year and I know she had hundreds of premium bonds but my dad can't find anything about them,can you tell me how to go about finding the information out for him
Joe
- 4-Mar-17 @ 12:33 PM
I have ten premium savings bonds @ £1 each dated 1967 .These were given to me by a friend , now deceased . Are these redeemable ? If so , then please advise ? It is only £10 but it would be a shame to throw them away if they can be redeemed .Regards A F Plumley
Allen
- 16-Feb-17 @ 7:56 AM
Lost my bonds and moved address wat shall i do
Ant
- 23-Jan-17 @ 9:40 PM
I have found a book with National Savings Stamps only worth £2,60, can I claim this back please. Thank You
patsywatsy
- 4-Jan-17 @ 12:22 PM
Can you tell me how many premium bonds can a married couple jointly buy
Wendy
- 12-Nov-16 @ 2:00 PM
I have just found an old premium bond gift token with a £5 gift stamp inside numbered 8061452. What can I do with it.? can I add £95 and buy a bond or can I get a refund. I think it dates from 1983. thanks,jmac
jmac
- 30-Sep-16 @ 5:08 PM
Baz - Your Question:
HiMy mother passed away 1st October 2013Me and my brother are both on the will, but my brother as been sorting out all the paperwork but asn't informed me of the bonds , I have only just found out about this when I went down to the bank on Friday, my brother is not talking so I'm finding it difficult to get information on all her banking , so I was wondering if you could help me. Thank you Barrie
---
Our Response:
In probate cases lack of communication usually leads to suspicion and resentment, so it is important that you are kept informed of proceedings. If you think your brother may be concealing information, then I advise you seek legal advice. The executor can be called on to explain all actions they take as the representative of the estate.
UnclaimedFinances
- 16-Aug-16 @ 12:49 PM