Amazing Unclaimed Lottery Facts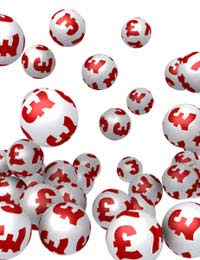 Its an amazing but true fact that some people are sitting on a lottery fortune without even realising it. Millions of pounds of lottery money are left unclaimed each year before the claim date runs. Once the claim date expires this money cannot be claimed and the lottery winner will become a lottery loser.
National Lottery Losers
Unclaimed lottery winnings are more common than people think. In the four months between March and July in 2006 a staggering £5,313,852.50 worth of lottery prize money had gone unclaimed. This usually occurs through lost tickets or people simply not checking their lottery tickets. Lottery winners only have six months to claim their prizes and once that date has expired the money will then go to good causes.
Unclaimed Lottery Millions
One amazing lottery fact is that around £2 million in lottery prizes are unclaimed every single week. There are a number of people who remember to place their tickets but forget to check and claim their winnings. In just one week in 2008 the amount of unclaimed lottery prizes that were given to good causes totalled £2,411,524. This is a life changing amount of money and the chances of winning again are slim to none.
Two Big Unclaimed Lottery Amounts
An amazing £1,666,667 was won by two people on the same date in 2006. This wasn't a shared ticket; this was a case of two people winning exactly the same amount on the same day. Unfortunately neither of the winners, one from Glasgow and one from Warwickshire claimed their fortunes. The National Lottery organisers do try to remind the winners to come forward once 25 days have passed since the winning numbers were announced.
The £6.9 Million Lottery Loser
It is incredible to think that some people will actually buy a lottery ticket, win millions but for some reason not claim the money. In 2008 a Devon ticket holder lost out on a £6.9 million prize. The winner had the lucky numbers in the lottery EuroMillions draw in 2007. He or she never claimed the prize and were probably unaware they held a ticket worth millions for six months.
The Biggest Lottery Loser
Some unlucky person was a multi-millionaire for six months back in 2005 but they were unaware of this fact. The largest unclaimed lottery ticket came to £9.4 million in 2005. The ticket was purchased in Doncaster and a town crier was unsuccessfully used to flush out the winner. Once the 180 day expiry had been reached the unlucky ticket holder could no longer claim and he or she became £9 million poorer.
Unclaimed Lottery Around the World
If you were on holiday in New York in 2007, bought a lottery ticket and forgot to check the numbers you might start kicking yourself. A massive $31 million Mega Millions lottery prize went unclaimed. This truly is a life changing sum of money and the chances of winning the jackpot in this lottery draw are 1 in 175,711,536. If the winner was that lucky it is surprising they were unlucky enough not to claim.
Why People Fail to Claim Their Winnings
It's a horrible thought that a million pound winning ticket is sitting hidden in an old coat pocket or down the back of chair. But lost tickets are the main reason people do not claim their prize money. In many cases people use lucky dip draws and do not even know the numbers that were on the lucky lottery tickets.
Not knowing the winning numbers could be a blessing in disguise. The thought of losing a million pound winning ticket would no doubt be an unbearable experience.
Lost Lottery Tickets, Lost Claim
If you do lose your winning lottery ticket then you basically cannot claim any prizes. Camelot or retailers will not be responsible for any lost, stolen or mutilated tickets. Even if winning tickets are found or have been stolen by another person you still will not be able to claim unless you can retrieve them. The best insurance is to write your name and address on the tickets. There may be certain exceptions for ticket holders who can prove the winning tickets were stolen but this could be a very long process.
Unclaimed lottery prizes are very common and millions are lost each year. Good causes around Britain become the winners when lottery millions do go unclaimed. This may not bring any comfort to those who have lost the millions unless they are the type of people who always look on the bright side of life.
You might also like...
I bought just one ticket on 31/7/2004,with the draw being the next day on my 22nd birthday. It was bought at a newsagents opposite Reading train station called Davinas. The train from Newbury arrived at Reading approximately 18.24, I walked out of the station, straight in to the shop, bought one line of numbers, and got very drunk the rest of the night. I missed the last train and so slept in a phone box in front of the station. The next morning I woke at 5.30, jumped on a train and returned to my mundane life in supported accommodation in Newbury. At the time of purchase the validity of tickets was 12 months, and sure enough, a year later, after two hospital admissions for four months each, and moving home, I was watching BBC news at 6. At the beginning of the programme the presenter said "there was a lottery ticket bought opposite Reading station which will expire at the end of the show". I waited right til the end, thinking to myself, that's my ticket, and then saw myself on the shop cctv at which point I had thirty seconds in which to claim it. I'd only been living in the property for three weeks and though I was aware I'd not discarded the ticket, I had no idea where it was. Then they said that the ticket had expired at the end of the news, and I just thought "damn".That second I found the ticket, and ludicrously TORE it up. Phoned the next day, but couldn't remember the numbers off the top of my head. Mind you, HAD I actually collected the quadruple rollover, I'd probably have killed myself with drugs which I had a problem with at that time. Small mercies!
Nick
- 3-Feb-17 @ 5:08 AM
The winning lottery ticket holder in late August 2007 was me. Mystery solved. I bought a months worth of tickets with my debit card from a store local to Exeter. A first for me as lotto tickets where not allowed to be purchased with cards in the early days. After returning from a stay in America for one month whilst raising cash to return to complete a commitment I had made to the Settle foundation to spend a year yogic flying with the coherence creating group in Iowa. I had completed 9 months up to the begining of August 2007. Homeland security had stamped my year visa with a 6 month limit. A further three month extension was granted after an appeal was made. I came home to Devon for one month to raise funds to return and complete the remaining three months, Once the month was up I returned to Iowa, Leaving my filled in ticket under my pc keyboard as there where a couple draws left on it that had not taken place at that point. I checked my numbers in the USA on my laptop and found out I was indeed the winner of the 6.9 million. Thinking my ticket was safe back at home in my shack in the folks garden, I kept it low key until my return that christmas. Fully expecting to give everyone a lovely suprise. You can imagine My suprise 3 months later upon my return home to find my ticket gone. To late to claim it as lost or stolen, Three month cut off point for that. And nobody tried to claim the prize, I kept an eye out to see if anyone attempted to claim it. The national lottery folks must have known it was me as I used my debit card to pay for the ticket. They new it was a Devon ticket and what shop etc etc. I even suspected it may have been one of there employees in cahoots with a rather hateful family member at one point. Or the spooks again. It is possible someone got wind of the fact I had won through an American I divulged it to. Mentioned it to my sisters family whom also spent some time at the same place in Iowa. My sister then asks the folks if they have heard about it. One of them then goes routing through my stuff. Finds the ticket. Find it already filled in on the back with my details. Has a temper tantrum and spitefully destroys it. Who can say? Would not put it beyond them based on there past behaviour. Or it could have been one of the spooks whom had been undermining my life since daring to stand as a candidate in the general election for the Natural law party a few years earlier.Even cut off my shack phone line pre my trip to the USA. They like there politicians Blackmailed and controlled as anyone whom has there eyes and ears open will have noticed. prefering paedophilles and the like. Imagine the rumblings in whitehall when the Maharishi set up a political party in less than a month and fielded candidates in most constituencies. All of them squeeky clean and to many to honey trap at such short notice, I bet the paedo enabling spooks where busy during that election. Needless to say the media did its u
Nick
- 16-Sep-15 @ 12:09 AM
Just like to win ten pounds loly
archi
- 4-Mar-15 @ 3:13 PM
I agree with the above i beleive i had a £400,000 ticket and have left it in my wallet at a garage i am going to try track my purchases for that day and prove it if i cant get my wallet back dont know if this will work but if its on camera surley i have to be paid out
Mack
- 23-Nov-14 @ 3:41 AM
I think when you by a lottery ticket you should be able to put your name and address, on the slip you write your numbers on so that would go on the computer so if the person never claimed, they could inform them camalot would not do this as they like it when some one does not claim as that is more money for charity DAVID