Unexpected Family Windfalls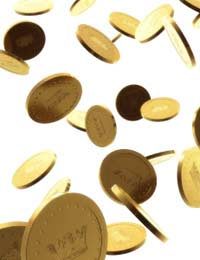 An unexpected financial windfall is always good news whether it's through an unexpected family inheritance or a forgotten pension plan. As these case studies show, sudden family windfalls are not uncommon, especially where unclaimed money is concerned.
Sudden Inheritance Family Windfalls
Around 3000 cases of people dying without leaving a will are handled by the treasury every year. When someone dies intestate the treasury office will try to match up heirs to the unclaimed estates. There are genealogists who are also employed to try to match up unclaimed estates with rightful heirs. However, sometimes the sudden windfall will come via an unexpected route.
BBC TV and The Teenage Heiress
One recent case is that of Jessica Ellacott, 17, who found out through the BBC TV show Heir Hunter that she was in line to a share in an unclaimed estate worth £145,000. Raymond Heath had died while suffering from dementia and had not left a will. Jessica had never met her relative, Mr Heath, who was her cousin three times removed. The BBC simply turned up at Jessica's door to make and film the surprise windfall announcement.
The £100,000 Family Windfall
Joseph Hilliard died in 2008 leaving an unclaimed estate worth £100,000. Mr Hilliard's family were soon reconnected with the inheritance thanks to the research work undertaken by Fraser and Fraser, an international probate company. Mr Hilliard had lost touch with his family over the years but beneficiaries were soon found including children and grandchildren. Research estimates that the number of people without wills in the UK is around 64% of the population.
The £1.23 Million Family Windfall
Another heir finding case undertaken by Fraser and Fraser ended with a homeless man finding himself in line to one quarter of a £1.23 million unclaimed estate. Mr Steele was a Big Issue seller who had been homeless for years when he suddenly found himself in line to a share of Margaret Steele's estate. After a hunt around the streets of London, Mr Steele was eventually contacted through the Big Issue office. Mr Steele eventually bought a castle in Wales from his windfall and a passport in order to visit a sister in Spain.
The Premium Bond Winner
Investing £20,000 in Premium Bonds turned out to be a much better investment than Sandra Brown had hoped for. Within 10 years her investment had given her small wins of £50, £100, and a £1000 win. Her next big win was £25,000 in 2004 meaning she had more than doubled her investment within 10 years. Sandra's Premium Bonds can still earn her more cash prizes until she decides to cash them in, and the big Premium Bond prize is £1 million.
Forgotten Pension Plans
It's a fact that almost half of the people in the UK have no idea how much has been built up in their pension plans. One in five adults change their jobs around five times before they reach 35 and many have lost track of the various pensions they have built up within various jobs. Pension tracking services such as the Direct Gov website pension tracker and The Unclaimed Assets Register have been matching up lost and forgotten pensions to their rightful owners.
The Pension Plan Windfall
A 61 year old civil servant had no idea how much had been built up in an old pension plan. In fact, Tony Douglas thought the old plan was worthless and had not checked on the details in years. Using the Direct Gov tracker he found details of the pension plan and was informed that the pension funds amount to £25,000. The Direct Gov pension tracker is free to use so those investigating old pensions really do have nothing to lose.
The Lost Lottery Ticket Winner
Around £2 million is left unclaimed in lottery prize money in the UK every week, usually through lost or unchecked tickets. A £7.9 million lottery winner took 120 days to claim their massive prize after going on holiday and forgetting all about the lottery ticket. The winner lost around £160,000 in interest over the four months that the prize went unclaimed. The winning ticket sat in a drawer during the summer holidays and the prize was claimed only seven weeks before the ticket expiration date.
There is a vast amount of unclaimed money in the UK hidden in dormant bank accounts, pension plans and unclaimed estates. If people do not take the time to search for money that rightfully belongs to them it will eventually be swallowed up by the government. It does not take long to conduct an unclaimed money search and the payoff could well be worth the effort.
You might also like...
i have just found my premium bonds from the 70s can I still claim if I've won anything
ljp
- 19-Jul-15 @ 11:54 AM