Unclaimed Pensions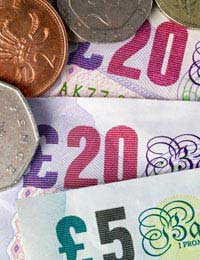 It's actually far more possible for a person to lose track on money in a pension, whether it's occupational or personal, than you might imagine (for obvious reasons, this doesn't include state pensions).
You might have been in a job for a short while and not realised money was being put in a pension fund, or it might involve someone else, now dead, who didn't know they had some money in a pension, or had forgotten it was there (which might be more common in the case of a personal pension).
The Pension Service, which administers pensions in the UK, believes that there's around £3 billion in pension money that's lying around unclaimed, but it's difficult to come up with a more exact figure.
Finding a Pension
There's a total of approximately 200,000 occupational and personal pension schemes in existence. That's a massive figure, far, far bigger than banks or building societies. Trying to track one possible pension in all of those could be rather like looking for a needle in a haystack for an individual, at least without a great deal of information when starting.
However, the Pension Service can help with this – at least to an extent. They maintain a database of all the schemes, both past and present. It costs nothing to use it, and you can access it through the website, via mail or on the phone.
After you've requested a trace, the service will contact you with the result. If they discover that you, or whoever you're representing, has money in a pension, they'll give you the contact details for the fund so you can follow up and claim the money.
What They Need From You
Be aware, though, that without a certain amount of information there's not a lot they can do. You'll need to supply them with your own details, obviously, as well as the name of the pension scheme or the employer (with their full name and address, information on whether the employer changed names and whatever else you know). If at all possible, it would also be useful to supply information on the type of pension scheme – occupational, personal, etc.
Obviously, the more details you can supply, the greater the likelihood of them being able to locate the pension. You can even use this service if you live outside the UK but believe you have a claim on a UK private pension.
Claiming The Money
The Pension Service can help put you in touch with whoever has the pension, but you'll be on your own when it comes to making the claim, although, in most cases, the procedure should be fairly straightforward.
You'll need to establish your claim and prove your identity. From that point it should be simple to obtain payment. If you're the heir to an estate with a pension it might take a little longer for the claim to go through – but you might also have had quite a job even tracking down the pension in the first place.
You might also like...
My Dad died last year, as far as I know he had a couple of private pensions, how can I find out if any money was paid out, my brother dealt with this matter.
Deb
- 20-May-19 @ 1:27 PM
My father passed away 29 years ago never gave his pension a thought at the time he was only 52. He worked for one company for over 17 years and another for 17 years. I do know he had a pension not sure if it was one or a continuation. How do I trace them? I do realise it's been a long time but have only just received his will which I could not find at the time of his death. Please get back to me Yvonne
Von
- 27-Apr-19 @ 1:18 PM
My father worked for Newman's in yate Bristol and had a pension with them . The company is now closed down . Can't find his pension
Kaz
- 21-Apr-19 @ 10:57 AM
My father died Dec 2018 we are sure he had a private pension but cannot trace anything or even remember his last occupation.
Moby
- 18-Apr-19 @ 6:21 PM
How do I check if my dad had any work pension if there is no paper work for me to check and thecompay he worked for at Norman Jackson Ltd has closed down many years ago.
Bexs
- 22-Mar-19 @ 11:10 AM
My father died in 1991 and had worked for a number of employer's but we never found out whether hehad contributed into any pension schemes his widow is still alive is it too late to make claims if he has any lostpensions
Johnny 54
- 16-Mar-19 @ 1:47 PM
How do I validate if my dad paid into a miners pension scheme. He was made redundant in 1968.
Lynn
- 8-Mar-19 @ 7:34 PM
My dad was a miner and not sure if he paid into a pension. He was on permantley sickness benefit due to lung infection due to the pit. He left the pit approx 1970. If he did pay into a pension how would I find out.
Lynn
- 8-Mar-19 @ 7:31 PM
My father died 26 years ago , he had his own building company & he paid in to a private pension for some years . We don't know the name if the pension . What information do we need to go further on claiming ? Many Thanks
Karin
- 7-Mar-19 @ 7:20 AM
My father passed away in 2002 and was in the army in the 70s/80s would I be able to claim his pension?
Rach79
- 21-Feb-19 @ 12:02 PM
How do I go about checking if my dad paid into any pension when I don't know any details
Stace
- 5-Feb-19 @ 3:32 PM
My dad past away last may he had a working pension they are saying that on the plan if he had a spouse or children under 21 i am the youngest at 46 and he has been divorced for over 30 years what can we do about claiming it back as he worked for the company for about 50 years
Ang
- 18-Jan-19 @ 12:02 AM
My father never claimed a war pension and now hehas died almost 7years ago can I find out if he is owed any money and could it be claimed by myself his daughtermargaret Gilbert
Mags
- 16-Jan-19 @ 7:04 PM
My father is alive at tge age of 73 and a uk citizen living in the Republic of Eire .He has been there 30 yrs .He claims the irish state pension but has never claimed a uk pension at all .Is he entitled to claim and can he get paid backdated unclaimed money. He has no workplace pensions but would be claiming the badic uk state pension ...can somebody help ...???
Te`
- 26-Oct-18 @ 11:54 PM
My father passed away 20 years ago and he left me something but his family went where he was working and claim without me knowing
Stain
- 7-Sep-18 @ 10:14 PM
My husband died in 2011, at the age of 83, he had been collecting his state pension, but prior to this had been off work through ill health, we never discussed pensions or money etc, but now I was wondering if it was possible if he had, work place pensions that I did not know about, I have no idea of the companies he worked for in the past, would it still be possible for me to check if he had any forgotten pensions?
San
- 20-Aug-18 @ 1:58 PM
My dad died 10 yrs ago some of our family have just found out in 1990 we got out a pension I was wondering if my dad did and how to get it
Kabab
- 3-Jul-18 @ 8:00 AM
My dad passed away in 2004 and he had a pit pension an nothing was ever heard about it. I was his next of kin am I able to do something about it now thank you
Pazza
- 22-Jun-18 @ 12:01 PM
My father Jack Craddock worked for Balfour Beatty, he paid into the pensions scheme all his life, but unfortunately he died in 1990, 3 weeks before he was going to retire at 60.My Mum received some sort of pension, but she died in 1995.What happended to all the funds my dad contributed? My name was Susan Craddock, I married David Brownbill - divorced, then David Stinson - divorced.I can send over any information you may require
99Suzique99
- 21-Jun-18 @ 1:50 PM
My dad passed away over a year ago I. Thailand and I'm finally getting his death certificate as he was cremated without one ?? I have few details, I know he was getting things sent to a uk address but I don't know which also don't know the companies he used to work for. Anyway I can find out?
Emchap
- 1-Jun-18 @ 8:05 AM
Hi my father passed suddenly in 2011 he worked all his life and had a pit pension is there any way of finding his pensions if so can i claim his pit pension as his only daughter.
Blondie
- 23-Mar-18 @ 2:15 PM
My father was born in United States of America -his parents were English and returned to home after his birth, my father later served in the 101st Airborne during WW2.There was talk of money being owed to him from this time which he never claimed,he died in 1984 . How can I find out if any monies were due to him or his next of kin?
Lynne
- 19-Nov-17 @ 12:31 PM
Hi my husband passed away just over a year ago and back in the 70s he worked for standard telecommunications in the docks in Southampton,he paid into a pension with them but because he died at 58 he didn't receive this and was wondering if there is any way I could find out about this.thank you
Kimbo
- 7-Nov-17 @ 3:38 PM
Sir/Madam, My father used to serve as a gym as well as a parachute instructor in the Royal Air Force just after the 2nd world war. He later relocated to South Africa in the early 1950's.He never ever claimed a pension from the pensionable date 60/65 back then and died at the age of 77 years. My question is : can myself along with my 5 siblings apply for the pension that he, or my mother who also passed on a year later, make an application for His unclaimed pension between the pensinable date whether 60/65 - 77 years.I can obtain all details but just would like to find out if this is a viable question and then a possible endeavour for this claim.My one brother and myself live in the UK, and another brother and sister in Australia and 2 sisters still live in South Africa.Thank you for your time.Trevor
Trevor
- 19-Jul-17 @ 6:56 AM
My mother died 17 yrs ago before pension age,she always said her pension stated if she died before 70 we would get lump sum,my sister and me,she worked for over 20 yrs, and now nothing,we asked someone yrs ago and got told we wouldn't get it as we were on benefits, feels like its been lying there,due to my mum and she's worked for nothing,after losing life at 53. Was going to ask legal company to try get it for us
Bowly
- 24-Apr-17 @ 12:53 AM
My father lived with me and collected social security and pension and he helped me with my bills he died unexpectedly on ne from a hard attack and I called his pension and they said he didn't put a beneficiary down so I couldn't qualify for anything to have my Dads funeral so I had ro raise the money. My Dad told me he had life insurance but his Job he retired from stated he did not have anything I know my Dad thought he was set because he had diabetes and was on dialysis and he wouldn't want us his children to not have the funds to give him a funeral. My Dad wasnt like that I think because he was on medication lots of pills and insulin for his diabetes he mistakenly thought his life insurance was covered because he worked so long 17 plus years with the wine group they didnt want to assist me at all.........all they did was send me a letter to send them my father's death certification when they could of paid for it themselves. Can you please help me I am a single mom and my Dad helped me with bills because I work partime because I been diagnosed with anxiety panic attack depression disorder this is all so overwhelming because I been a Daddys girl for 35 years now my Dad is gone.
Steph
- 15-Apr-17 @ 12:26 AM
sam - Your Question:
Was wondering if you could help I am trying to trace my Fathers pension from quite a few years ago and I do not know where to start.Any help would be much appreciated
---
Our Response:
You can see more via the gov.uk link
here
. I hope this helps.
UnclaimedFinances
- 15-Mar-17 @ 10:09 AM
Was wondering if you could help I am trying to trace my Fathers pension from quite a few years ago and I do not know where to start. Any help would be much appreciated
sam
- 14-Mar-17 @ 4:09 PM
My dad served in army for nine years in 60 s.but never had a pension ??????? Doesn't sound right
Barry Wilson
- 22-Feb-17 @ 6:44 PM
My estranged husband sadly died last year and although he lived with a new partner we never divorced yet his partner is claiming his pensions, how is this possible especially as he has 3 children? His partner asked me for copy of our seperation agreement so i contacted my solicitor for it . I was informed by my solicitor that as there was no clause in the agreement saying it was a full and final settlement so I was legally entitled to the pension and his partner would not be able to access it. I also have his will which she was informed off which named me as benificiary. How can I find out how she has been able to do this? Thank you Donna
Little owl
- 15-Jan-17 @ 1:49 PM