Unclaimed Funds In India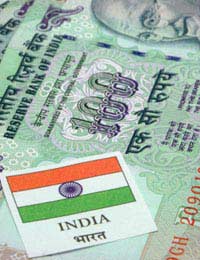 The British had a large presence in India, and ruled the country for centuries, which ended only with the country's independence in 1947. Even then, for many English people the days of the Raj weren't over, and they stayed on, some into the 1960s or even beyond, while others died there.
In some instances, they'll have left money behind in accounts unclaimed, or if they died there, there might be money in bank accounts or possibly shares that no one has laid claim to.
The problem, of course, is locating the unclaimed assets.
Bank Accounts
The vast majority of unclaimed money in Indian bank accounts is actually in savings deposit accounts. In India an account is termed unclaimed if it's had no activity in 10 years. However, even then accounts continue to earn interest of 3.5%. unless they're unclaimed
fixed
deposit accounts, which no longer earn interest, since the deposit term has ended.
One of the biggest problems the banks have encountered has actually being getting people to claim old accounts, since the claim procedure, apart from being drawn-out and tedious, often proved to cost those who'd inherited the money more than there was in the account. Why would anyone want to spend more than they'd gain when it wasn't necessary?
Change In Procedure
In late 2005 the Reserve Bank of India, which is in charge of the process, altered the way money could be claimed. As a result, things have been streamlined (and made a great deal cheaper), meaning it should be able to get rid of some of the unclaimed bank accounts.
The RBI told banks to release money within 15 days of the heir coming forward with proof of the depositor's death and of the right to receive the money. Nor would the heir have to produce a bond of indemnity, a succession certificate or a letter of probate, all of which had been previously required.
Tracing Indian Accounts
For anyone overseas, trying to trace an unclaimed bank account or shares in India will be virtually impossible. There is no centralised database, and nothing can be done online. That unfortunately only leaves one option, which is to use an India-based company to try and locate money.
It's something that shouldn't be undertaken idly. You're paying for the service, so a wild shot in the dark isn't very useful. You'd need to have a fairly strong idea that there was money in the country waiting for you to claim (and, of course, that you have the right to claim it!).
Shares & Mutual Funds
There seem to actually be more unclaimed shares that belonged to foreign nationals than bank accounts, which is perhaps understandable. Not only is it easier to forget shares, but they can also be readily bought overseas.
Since 2003, all unclaimed funds from asset management companies that have been wound down have been transferred to the Association of Mutual Funds of India. Although interest on the income is used for investor education, any unclaimed money can readily be claimed by those with a right to it. However, they don't maintain a database of unclaimed funds, so once again there's no easy way to discover if you have money coming and you're left with no alternative but to use the services of a company to try and trace the assets.
You might also like...
Sirkindlya m.looking for unclaimed funds to claim as a next of kin if nobody applies to claim
Mbogoshi
- 29-Aug-21 @ 7:36 AM
I'm trying to locate my late father's bank account . Is this possible and much would it cost
Prib
- 27-Feb-20 @ 11:47 AM
Any unclaimed money of mine, i am claiming for running my business of orphanage and organic farm.
Subbu
- 18-Feb-20 @ 10:19 AM
Sir kindly a m looking for unclaimed funds to claim as a next of kin to share as partnerr if no heirs to claim
Mbogoshi
- 16-Jan-20 @ 12:53 PM
Sir kindly a m looking for unclaimed inheritance to claim as a next of kin to share as partners if no heirs to claim
Mbogoshi
- 15-Aug-17 @ 4:06 AM
Raks - Your Question:
Please advise on the companies who search for you, to save the assets. In dormant bank accounts bonds etc.
---
Our Response:
Please see link
here
which may be of use.
UnclaimedFinances
- 7-Feb-17 @ 2:21 PM
Please advise on the companies who search for you, to save the assets. In dormant bank accounts bonds etc.
Raks
- 7-Feb-17 @ 4:08 AM
Many of my dividends of equity shares and mutual fundsnot been received or remained unclaimed. Please guide how to track Thank you for your help and guidance.
Dhananjay
- 22-Apr-14 @ 3:51 PM