Unclaimed Money For Holocaust Survivors and Israeli Immigrants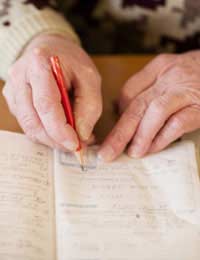 Before the Second World War, thousands of Jews in Europe bought land in what would become the state of Israel (Palestine, as it was then called) and put money in its banks.Some of those people survived the terrible Nazi Holocaust that killed some six million Jews. Most did not.
Remarkably, it was only in 2006 that the Israel parliament, the Knesset, passed a law that allowed the descendants of Holocaust victims to make a claim on the assets that had been languishing for so long. Although no one really knows for sure, the estimates are that between £250 and £500 million is sitting unclaimed. Of course, along with the amount originally invested, several decades of interest will have accumulated. The unclaimed assets that descendants can claim includes land in Israel.
The Problems
In the case of land, much of what would have been owned by victims was later held by both the Jewish National Fund and the state, and some of it would have eventually been sold. The bank accounts, most of which would have been in Bank Leumi, have mostly been with the Custodian General's office since Israeli independence in the late 1940s. There were also shares in Bank Leumi owned by Holocaust victims - they actually owned about 2.5% of the total shares in the institution - and those are now administered by the Jewish Settlement Fund.
The whole process of reuniting heirs with the money began with the 2007 publication of the names of all those who'd bought land, or had bank accounts or shares in Israel before the Holocaust. The intention was that the heirs - or possibly even some survivors of the Holocaust - could come forward and make claims. However, it's was expected that no more than 30% of eligible heirs would actually make a claim. An organisation was set up specifically to deal with the claims: The Company for Locating and Retrieving Assets of People Who Were Killed in the Holocaust Ltd.
However, it wasn't the first time a list had been published. Back in 1997 there was a list of 11,000 owners of missing accounts. But only 400 claims were made from it, and of those, only 10 were paid.
The Unclaimed Remainder
Given that most of the assets will go unclaimed, the Israeli government has made provision for that money. The vast majority of it will be to the 70,000 or more Holocaust survivors living in Israel, many of whom are poverty-stricken. However, no one can estimate how long it might be before they see any of that money, if, indeed, it even happens in their lifetimes, as all are now elderly.
Making a Claim
To see if you might have a claim through an ancestor having invested money or bought land in Palestine, you'll need to consult the lists published by the Company, which contain literally thousands of names.
From there you'll need to fill out and submit a claim form. You will also need to provide proof of your identity and relationship to the account or land holder, but the authorities have said that, having taken so long to devise this scheme, they want to make it as easy as possible for claimants.
Swiss Banks
In the 1990s legal action begun in the U.S. forced Swiss banks to pay out $1.25 billion to settle a class action suit. Just before the Millennium an investigation of Swiss banks revealed some 54,000 dormant accounts that might have belong to Holocaust victims.
Lists of the names of account holders have been published by the Swiss Banker's Association. If you believe a relative's name is on the list, you'll need to contact the Claims Resolution Tribunal in Switzerland (www.crt.ch).
Additionally, heirs of Holocaust victims, and Holocaust survivors might be able to claim some of the money won in the class action suit.
Other Claims
Several other countries have funds set aside for Holocaust victims, such as Austria and Germany, or dormant accounts that could be returned to the rightful owners of heirs (England, France, Czechoslovakia). There's also the International Commission on Holocaust Era Insurance Claims, which was established to find lost insurance policies from the Holocaust era and locate owners or heirs.
You might also like...