The British Banks Lost Bank Accounts Service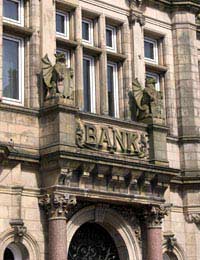 Anyone who is interested in finding lost bank accounts can use a service set up by the British Bankers' Association along with other financial institutes. This service is free to use and can help when looking for old and lost British bank and building society accounts.
What Are Lost Savings and Bank Accounts
Many people open numerous bank and building society accounts throughout their lives. It is not uncommon for people to simply leave a savings account 'open' when they move to another financial institute. Banks will contact customers to ask if these accounts are to remain open if the accounts are left inactive. If the banks do not receive any contact from the customer they will simply class the account as lost. This will mean that no further letters are sent to customers, which helps to stop identity theft, a risk when customers change addresses.
Reclaiming a Bank or Building Society Lost Account
It is quite simple for a customer to reactivate a lost savings account if they do manage to trace one. This can be undertaken by contacting the bank or building society and reactivating the account. Customers can then claim any money that is in the account by completing an application form to the bank. Banks and building societies do try and trace customers with inactive accounts if possible. But the information held on customers may limit this search, especially if customer addresses are out of date.
The My Lost Account Service
My Lost Account is the name of a online tracing service that can be used to find lost bank and building society accounts. This was set up by a number of different financial institutes to make tracing lost accounts easier for customers. The British Bankers' Association, National Savings and Investments, and the Building Societies Association are all part of the Lost Accounts Service. This means that customers have a central point for tracing lost accounts through the major British savings associations. This is an easy to use online service that will not cost the customer any money to use.
How the Lost Accounts Service Works
The Lost Accounts Service includes a search of banks, building societies and other financial institutes that may hold lost accounts. Completing an online application form is part of the process. Details required for the application process will include:
Name, date of birth, email, telephone number and present address
Previous addresses of the customer can be included on the application form
A list of financial institutes is included for the customer to 'tick' if they think they may have held an account with them
A regional search can be included although the financial institute's name and address can be included by the customer
Details such as length of time at previous address can be included but are not essential
Customers will be required to ensure that documented identification can be provided if lost savings accounts are found
Lost Account Search by Banks and Building Societies
Once the information has been completed this will then be sent to the specified financial institutes. The banks and building societies will undertake a search to assess whether there are any lost accounts in the applicant's name. If any lost accounts are found the financial institute will contact the customer with the relevant details. This search should take no more than a few weeks to complete but can take up to 12 weeks. Documented identification will be required such as a passport or birth certificate in order to verify the customer's identity.
Searching for Lost Accounts on Behalf of Others
It is possible to search for lost bank and building societies accounts on behalf of others. This can included deceased relatives who may have died without leaving any information on their bank accounts. The same search can be made but in the deceased person's name. Again, if any lost accounts are found the banks and building societies will need proof that the person claiming the money is legally entitled to do so. A claim by a legally entitled person can include any money in the lost account and accrued interest if this is applicable.
The Lost Accounts Service is one of the simplest ways to trace lost accounts. As it is free to use it will not cost a penny to complete a search and perhaps find some unclaimed money. If interest has been accruing over many years this could be an unexpected and useful windfall.
You might also like...
I need you to help me search for my My name is Elizabeth Scottaccount. I did the application for the transfer from the bank of England but I didn't know my swift code so much money hit all the wrong accounta but I do habe all my certificate of ownership proving that I am the new owner of the account and I have the will paperwork. Please get back because it's been 6 years. I really need your help. Thank you.
my mother bought some premium bonds years ago over 40 years ago.her name was mary Jenkinsshe lived in Fulham London sw6
janeggy
- 9-Dec-13 @ 9:43 AM
my mother bought premium bonds years ago for her grandchildren two of which are my children.They have been lost.They, were bought under her own name (Mary Neill) about forty years ago.Please check
may
- 17-Jun-13 @ 11:04 AM