Standard Life Shareholders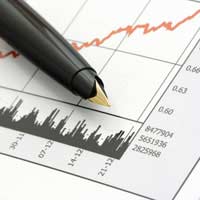 The process known as demutualisation has been very helpful to a number of companies who wanted to grow. Essentially it changes the ownership of a company, shifting from being owned by members to being a stock company.
Certainly in its first year it helped Standard Life, which experienced excellent growth in the 12 months following demutualisation from policyholder ownership in July 2006.
Anyone who had a policy with Standard Life on March 30, 2004, was considered an eligible member (at least as long as they kept that policy vested until the demutualisation date in 2006) and so became entitled to shares in the new company, the number depending on the size of the policy.
Furthermore, to encourage the new shareholders not to immediately sell their shares, the company announced that one year after demutualisation they'd issue bonus shares, at the rate of one bonus for every 20 shares held, to all those who'd hung on to their shares they were issued.
Unclaimed
A total of almost two and a half million policyholders were entitled to receive shares under the plan. However, 300,000 of those people, almost one-eighth of the total, didn't claim their shares. That mean a total of 112 million shares, or 4.8% of the total number of shares issued upon Standard Life becoming a stock company, went unclaimed, a huge figure. The value of the unclaimed shares was £291 million - no small amount by anyone's standards.
What The Company Is Doing
So just what has Standard Life done about all those unclaimed shares? They've been placed in trust, and those who are entitled to them have 10 years from the date the stock was floated in which to claim them.
Where dividends have been paid, that amount will be added to the shares if they're claimed, and all this, of course, stands in addition to the usual policy benefits.
Although plans haven't been fully revealed, in all likelihood the company will sell those shares after the 10 years period has passed. Those who haven't claimed will then be eligible for the cash windfall from the sale, but would obviously no longer be eligible to receive shares.
Why Haven't They Been Claimed?
You'd imagine that with all the publicity, every policyholder would have been aware of their right to claim shares in Standard Life Plc. However, that was apparently not the case. Some would have misunderstood and thought they were not entitled to receive anything under the change.
Others would have just not bothered to claim their shares, while a few would have moved and not given their new address, meaning they missed any mail notification. Perhaps the biggest batch would simply have forgotten to claim their shares.
Making a Claim
If you think you have the right of ownership of Standard Life shares - you might even be their heir of a policyholder who hadn't claimed but who was eligible - then making a claim is quite straightforward.
Obviously, you'll need to prove that you are eligible to receive the shares and also confirm your identity, but it's not difficult to do, and Standard Life wants to reunite these shares with their owners.
You might also like...
my wife had a deposit box in a bank , she did not have theinsurance onit , but signed a paper to say ", i agree that , except in respect of loss, damage . or delaydirectly caused by thenegligenceor misfeasance of the bank own officers or servants , the above items are loggedwith the bank soley at myoenrisk " the bank through theirlaw firm are refusing to say thesafe deposit boxhas been lost yet , are saying we are not responsible for your loss, yet they cannot find the box the value in the box was 50k , any advice would be help full
I was entitled to a share windfall from the Halifax. They disputed this and never awarded me the shares, I wrote to them on numerous occasions and showed them evidence of my entitlement. They refused to award me my shares and the last I heard from them was a telephone conversation out of the blue, telling me that I needed to contact the financial ombudsman. I asked for written documentation of there intentions by way of a deadlock letter. This was never received.Shortly after this I suffered a breakdown in my private life and as a result moved out of what was my family home. The matters regarding the share issue was never resolved. I have documentary evidence to support my claim.Please could you advise and if necessary assist me in resolving this matter.
podja
- 23-Nov-16 @ 12:19 PM