Companies That Help With Unclaimed Money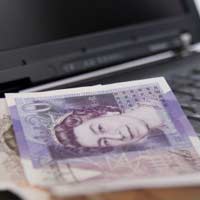 Where there's money to be made, you can bet there will be companies eager to make it. The spirit of enterprise is strong, and the prospect of working with so many clients and so much unclaimed money would make any businessman excited.
Although you can go looking for your unclaimed funds yourself, it can seem a little like wandering through a maze at times, and takes some patience and determination to actually get to the money.
That's why there are several companies that can negotiate it all for you. Some of them charge, although the amount can be relatively modest, while others, amazingly, will help you without a fee of any kind.
Companies That Charge
The biggest company going after unclaimed assets does charge a fee of £18 for a search, although 10% of that is donated to charity, and the amount includes VAT. Called the Unclaimed Assets Register, what they bring to the table is the fact that they're owned by Experian, one of the country's leading credit reference agencies, so there's plenty of integrity and financial experience.
However, it's worth pointing out that they try to match up funds and owners from databases that companies have supplied to them. In other words, they're limited. They don't really go out and conduct searches, merely compare against information they have, and they admit that not finding a match doesn't mean someone doesn't have money unclaimed somewhere; it only means they don't have the name on their list.
Another company, Assets Reunited, contacts consumers at the behest of institutions to match them up with money owing. They do charge the claimants, but, curiously, don't say how much, although they claim to take care of everything.
There are also other companies offering services, such as Funds Reunited and Missing Cash, with more springing up.
Free Services
There's no free service that covers every database. But there is one, My Lost Account, that can search the majority of dormant current and savings accounts in Britain, and cut down on the work you'd need to do – they even have the forms you'll need to start your claim if anything is found. They can work for you both online and through the post (since not everyone is online!).
Essentially, if they turn something up on their database, they'll contact the appropriate institution, which will do its own search of its accounts to check whether the details meet those of the claimant.
What makes this service so effective is the fact that it's run jointly by the British Bankers' Association, National Savings and Investments and the Building Societies Association. That makes them the authorities on accounts, and able to take care of all of the problems as well as work easily with individual banks and institutions.
Why Use a Company at All?
You'd use a company to try and simplify the process, to cut down on the time you'd need to spend, and on the hassle of searching yourself. It can prove to be worthwhile if you know there's money out there with your name on it.
If you're not so certain, though, then a company that doesn't charge or doing it yourself are by far the better and cheaper options. The truth is that it's not difficult or even that time-consuming to conduct your own search, and sometimes the thrill of the chase and the discovery can far outweigh speed.
You might also like...
Sir kindly a m looking for unclaimed funds to claim as a next of kin to share as partners
Mbogoshi
- 16-Aug-15 @ 7:27 AM