What Do You Need To Claim Money?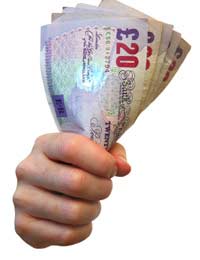 So, you've discovered that there's some unclaimed money with your name on it. It might be an old bank account you'd forgotten about, or perhaps and insurance policy, maybe even some money ion a pension fund that you didn't even know existed.
It's there and you want it. But how do you get to it?
What You Need To Do?
Whichever institution is in possession of the money – this, of course, is once they've established that the money is yours – will want proof of your identity, which can be easily accomplished with a passport, driving licence or something similar.
The first step, at least with a bank, building society or National Savings account is to make the account live again, for only then can it be closed and the funds withdrawn – after interest has been calculated, of course.
It really is as simple as that, and if you use one of the companies – paid or unpaid – that help unite people with their unclaimed funds, it can be streamlined even further.
What If It's Not In My Name?
It might be that the unclaimed funds in question belong to a relative who's died. You might well be the executor of the state, or the heir.
That does muddy the waters a little, but not too badly. First of all, of course, you'd need to initiate a search for unclaimed funds under the name of the deceased person to see if anything exists. That's easy to do – where you look and what method you use depends on the type of funds involved, be it bank, building society, shares or anything else.
If there are funds, then you need to do four things. Initially you have to prove the deceased was the person with the accounts. After that you need to show he's dead – the death certificate is proof, obviously. Then you need the will, which will show both the names of the executors and the disbursement of assets. Finally, you'll need your own ID, just as you would for any other claim.
The process can take a little longer, simply because of the extra steps involved, but once again, it's not incredibly complex. If there are problems, then you have the recourse of appealing to the Financial Services Ombudsman to resolve the issue.
Ultimately, the banks want to be rid of all this money. Its not generating income for them, and it's simpler for them to be done with it than keep it on the books, even if they're simply dormant accounts.
However, they're naturally obliged to perform proper checks to ensure the money goes to the right parties. Unlike the government, however, the flow for unclaimed funds is quite speedy, so you could be reunited with your money very quickly.
Safeguards
The proper checks are still careful enough to make sure no one can pose as you to collect your money, so your safety – and that of your cash – is guaranteed. In theory, at least, even if you don't claim the money for more than 20 years, and the money is disbursed to other services through the government, you could still claim, and receive the full amount.
You might also like...